The Conclusion of the Fraudulent Birth Certificate of President Obama
Date Apr 27, 2011The White House did not produce President Obama's original Naturalized Birth Certificate. They produced the actual Birth Certificate of the little six years old, Barack Hussein Obama, Jr., who once was the original owner of it before Obama took ownership.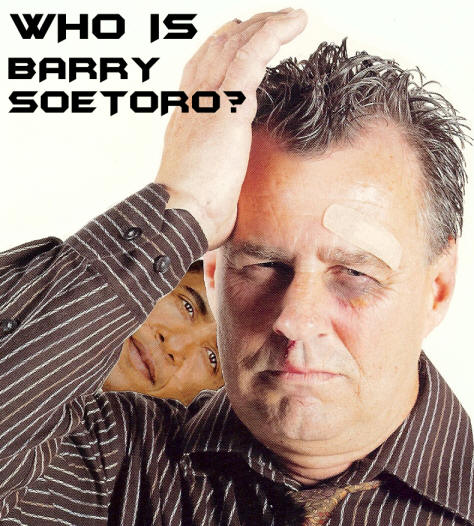 Photo by Andrew Brietbart
The Original Owner of the Birth Certificate
Barry Soetoro

Photo by Brietbart

Time Line Evidence listed below will reveal President Barack Obama doesn't own the Naturalized Birth Certificate of Barack Hussein Obama, Jr.
January 20, 1964 - Stanley Ann Dunham filed for a divorce from Barack Obama
http://www.bing.com/images/search?q=Ann+Dunham+divorce&qpvt=Ann+Dunham+divorce&FORM=IGRE#view=detail&id=2BF9FB8BDE908D422EF223C5EB9D3F25E2E25243&selectedIndex=45
The Beginning of a "Bait and Switch" Birth Certificate for President Obama through Identity Theft by the Illuminati
1965 Lolo Soetoro married Stanley Ann Dunham Obama.
Lolo Soetoro moved back to Indonesia and would later send for Ann and her son.
1967 - Ann Dunham moved with her son six year old son Barack Hussein Obama Jr to Indonesia to join her husband, Lolo Soetoro
http://www.bing.com/images/search?q=Lolo+Soetoro&Form=R5FD3#view=detail&id=93268397A52BB6C1EA4D272EA3C36E8C24C89E14&selectedIndex=7
With the ongoing mental anguish that Stanley Ann Dunham suffered by Barack Hussein Obama Sr., apparently she wanted to wipe every trace of her past behind her with her new husband. Under Islam law, a non-Muslim child cannot be raised in a Muslim home. Soetoro legally adopted the six year old Barack Obama Hussein, Jr., as his son. Soetoro also had Barack Jr's name legally changed to Barry Soetoro.
Barry Soetoro – an official citizen of Indonesia and a Muslim
Barry became a citizen of Indonesia, and his religion was converted to Islam. Once Barry became an Indonesia citizen, he no longer was considered an American citizen.
At that point, once Barry Soetoro relinquished the owner of his former name, Barack Hussein Obama, Jr., it no longer exists. Legally, Barack Hussein Obama Sr., no longer had a son.
On being raised as a Christian as Barry Soetoro in Indonesia as the lies continued.

Excerpts – Cathleen Falsani Interview with State Sen. Barack Obama –
On being raised as a Christian as Barry Soetoro in Indonesia as the lies continued.
"As I said, we moved to Indonesia. She remarried an Indonesian who wasn't particularly, he wasn't a practicing Muslim. I went to a Catholic school in a Muslim country. So I was studying the Bible and catechisms by day, and at night you'd hear the prayer call."

Read more: http://blog.beliefnet.com/stevenwaldman/2008/11/obamas-interview-with-cathleen.html#ixzz2SAnfhAYt
Researched evidence refuted of Barry Soetoro was raised non-Muslim and went to a Catholic school.
http://www.redstate.com/streiff/files/2010/08/barry.jpg
How President Obama obtained ownership of the Birth Certificate of Barack Hussein Obama, Jr.
By Lolo Soetoro legally adopting young Barack Hussein Obama, Jr. as his son, and changed his name to Barry Soetoro, it now gave President Barack Obama an established American Birth Certificate through Identity Theft.
Barry Soetoro attended Muslim school as a "Muslim" in Indonesia – January 1, 1968 – First Grade
Photo by Brietbart

1968
Apparently Ann was very happy and planned to live in Indonesia "indefinitely" as stated on her renewal passport registration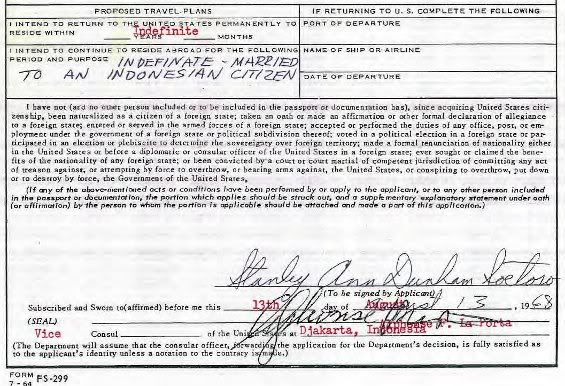 Photo by Brietbart
1969 – photo indicated Barry was now in 3rd grade. He made friends at school, and was very happy.
Photo by Brietbart
Lolo Soetoro appeared to be in a happy mood. Maya was one, Barry was 10.
Lolo Soetoro in 1971
Photo: http://en.wikipedia.org/wiki/Lolo_Soetoro
By 1972
Stanley Ann's marriage to Lolo Soetoro was in serious trouble from researching background information. This definitely is a different spin that Obama and Maya painted Ann for leaving Indonesia.
Ann Dunham moved back to Hawaii with her two children – Maya aged 2, and Barry Soetoro aged 11.
Back in 1968, Ann stated on her passport, "Married to an Indonesian Citizen," plan to live abroad "Indefinitely."

By now, Ann Dunham was having major infidelity marital problems with her husband Lolo Soetoro who had abandoned the family and was living with another woman. Ann indicated on passport application form "Return Home Indefinite" Hawaii.

It appeared the Illuminati who were writing a narrative for legitimacy for Obama as an American, had to find a way to get Ann back in the United States. Ann started having the exact problem with Lolo Soetoro that she had with her Barack Obama's Sr, This became the stimulus to get her back to the United States. It worked. I saw that type of stimulus in "dirty politics" being used on a candidate by the Illuminati back in 2003.
Ann was now returing home to Hawaii "Indefinitely."
Brietbart's documented evidence
Photo of Dr. Stanley Ann Dunham's Family - 1972

Barry Soetoro was 11 years of age, and Maya was the age of two upon returning to Hawaii.
Obama with his half-sister Maya Soetoro-Ng, mother Ann Dunham and grandfather Stanley Dunham, in Honolulu, Hawaii
http://www.barack-obama-photos.com/Obama-Childhood-Photos.html
Barry Soetoro, third from left at rear, in 1972 – 5th Grade Still had his round face
This 1972 photo provided by Na Opio, the yearbook of Punahou School ...
http://www.bing.com/images/search?q=Lolo+Soetoro&Form=R5FD3&&id=762B92D54FF83A855DA4AA3746DF9A2931CEAFCA&selectedIndex=507#view=detail
Regarding Child Care Info: Ann states in January 1980, oldest child (Barry Soetoro) is in University, and daughter Maya has resided with her since her formal separation for Lolo Soetoro in 1974. Maya and mother are U. S. citizens.
https://p3nlsccweb.secureserver.net/filemanager/?acct=077aefc6-a9e8-11e1-a7e5-f04da201700d&pl=1&prog_id=GoDaddy&app=filemanager&accountUID=077aefc6-a9e8-11e1-a7e5-f04da201700d
August 20, 1980 Complaint for Divorce by Ann Stanley
Ann Dunham Soetoro and Lolo Soetoro finally divorced after being separated for eight years. In the divorce papers clearly indicated that Lolo Soetoro was the legal father of Barry Soetoro, formerly Barack Hussein Obama, Jr. ("The Parties have two children, one child below the age of 18, and one child over 18 years, but still depended on parties for future education.)
Click on Link of Complaint for Divorce
http://theconservativetreehouse.files.wordpress.com/2011/04/soetoro-divorce-1980pg1.jpg
Immediately after finally receiving his divorce from Ann Stanley Dunham in 1980, Lolo Soetoro married the woman he had lived with since 1972
"Soetoro married Erna Kustina in 1980 and had two children, a son, Yusuf Aji Soetoro (born 1981) and daughter, Rahayu Nurmaida Soetoro (born 1987)."
http://en.wikipedia.org/wiki/Lolo_Soetoro
Update - May 2013
Once they got Barry Soetoro back in Hawaii in 1972 on United States soil, the Illuminati had no further use for Barry or his mother, Dr. Stanley Ann Dunham. Through Identity Theft, the Illumaniti now had the Birth Certificate for Obama's legitimacy to become President. The Illuminati's interest shifted completely on Barry Obama, the Decoy for President Obama to establish an academia, legal, and political careers for President Obama.
Brietbart Photo stamped

Click on Link to Chapter II, Part I
http://apoliticalawakening.com/blackdemons.html